The simple answer to this question is that concrete is heavy. When the soil underneath a concrete slab is washed out or becomes compressed, the support system for the slab begins to fail. This will cause sinking or settling concrete into the void created underneath the slab. Additionally, if part of your concrete slab is not supported while the other part is pieces of your slab may crack and break away from the other section.
Our team at DryDryDry can inspect the condition of your concrete slab during an on-site estimate. We will then provide you with the best course of action for leveling your concrete using foam-lifting. This is the most common solution for concrete settling and can be effective even on very large slabs.
The Top Causes For Concrete Sinking
Our experts at DryDryDry know that there are a number of reasons why your concrete slabs are sinking. Soil shrinkage, compaction, and settlement all have an impact on your concrete. In addition to the soil composition in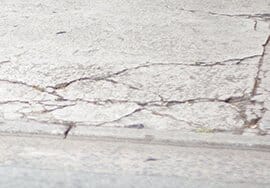 Michigan consists of soils that are easily washed away and damaged by large amounts of water run-off from heavy rains and snow. If they are not compacted correctly before the concrete is poured, they can settle or compress more over time causing your slab to sink.
One of the most common causes of concrete sinking is soil washout. Sometimes the soil underneath your driveway, patio, walkways, and other concrete slabs may be washed out by heavy rains leaving voids underneath your concrete. These voids are areas where your concrete can sink into and can even cause large cracks.
Contact Our Experts For Concrete Lifting Today
Our experts at DryDryDry are here to help you with any of your concrete lifting needs. Contact our experts by calling 313-495-7923 or by contacting us online to schedule a free inspection and estimate for your sunken concrete slabs today!
Foundation Repair in Detroit, MI
He was here less than 5 minutes and found the issue that many other completely avoided/missed. Very impressed and the issue he found was so simple and the fix costs thousands less than other quotes we've had. 10/10 would recommend!
Brittany - Detroit, MI 48243
Basement Waterproofing in Bloomfield Hills, MI
As a builder, I am particular about the contractors I hire. Their professionalism, as well as service, is outstanding. Timelines are always met, pricing exceeds the competition, phone calls are returned, and they clean up after the work is done. I can't say enough how happy I am with DryDryDry.
John D - Bloomfield Hills, MI 48304