Professional Sump Pump Installation In Southeastern Michigan
One could argue that the sump pump is the single most important piece of equipment in any basement or crawl space waterproofing system. This is due to being the only piece of equipment in charge of actually removing the water from the basement. Sump pumps are extraordinary machines, not for their task, but because of the high standards, they are made up to. Sump pumps if needed can run full tilt for long periods of time if need be in order to keep your basement and the belongings stored inside dry. When designing a system involving interior and crawl space waterproofing, we try to choose the ideal size, and capacity for the project at hand.
Signs of Exterior Waterproofing Issues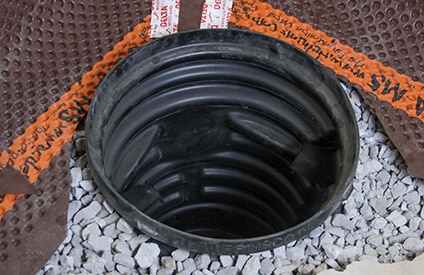 When considering how waterproofing systems work and the standards they are built to, one should take into account the simple fact that if something is maintained correctly, and when it is supposed to, there is no reason why the sump pump should not last the entire life of the home. But, if for some reason you are in need of a new sump pump, or a sump pump upgrade, DryDryDry can provide you with a new or upgraded sump pump for your basement or crawl space. With the new sump pump in place, this will more than help ensure that your basement or crawl space waterproofing system is fully operational for many years to come, and will continue to prevent your home or building from being damaged by water.
DryDryDry strives to provide only the best options for customers when regarding our Sump pump installation services. You could either have no waterproofing system in place or a currently existing one. This does not matter, as DryDryDry is equipped to install as well as replace. What system that you choose regarding the sump pumps that we offer, you can be sure that your waterproofing system will work correctly in preventing water from damaging your home for years to come.
Which sump pump should I choose?
Sump pumps are varied in types, styles, and even configurations. These are all designed for a wide range of different applications and situations. All systems at the very least will contain at least one sump pump. There are some systems where two or more pumps may be required, should the primary need assistance, or if the primary becomes dysfunctional in any way. We will recommend after inspection, whatever pump will reliably function as it is supposed to, at a cost most convenient to you.
There are two main types of sump pumps, and they are utilized for different purposes. The two types of sump pumps are pedestal and submersible. Here is an overview of the two.
This type of sump pump is exactly what you'd think it is, a pump which sits upright and has an impeller which resides at the bottom of it, on the base. The motor is located over the pump, thus providing no chance for the pump itself to get wet. The main upside to Pedestal pumps is that they are a lot less expensive than a submersible pump would be, but they are usually noisier, and can't expel heat as well, so are more prone to overheat.
These are the more expensive of the two, and is the pump which is installed directly to the sump pit, and has little to no chance of overheating. This is due to the fact that the water they are submerged in is what also keeps the motor cool. Due to their ability to function underwater, they are a fair bit more expensive. Furthermore, it is because of where they operate they last as long as they do because heat does not have many factors in introducing wear to the pump itself. Submersible pumps also contain the benefit of being quieter, muffled by the water, and the sump basin they are stored in. This also provides your basement with a much cleaner, organized look.
In many homes, typically if there is a sump pump, this is what we'd consider an "emergency", pump. This pump is very important, because if for some reason the power goes out in your home, which is typical during a storm at the worst of times, then you can rely on this. These types of pumps rely on their own special battery and are not reliant on the power of your home to on to be functional. In the instance where this pump is used, this one will serve the task of acting as your primary pump until the power has been restored and only then the backup will turn off, to begin charging again in preparation for the next time there is a power outage.
How Sump Pumps give you peace of mind
There is a certain comfort, knowing that your basement and its waterproofing system always functions as it should. With a sump pump, tethered into your home's power, and a battery backup one, you will receive peace of mind that no matter what storm or situation is asked of your waterproofing system it will be up to the task.
Contact Us For Professional Sump Pump Installation Services Today
If you are in need of any work regarding your basement waterproofing system, please do not hesitate to reach out and contact us, so we can have an expert come to your home and provide you with a free inspection for on your existing sump pump, and the rest of your waterproofing system. Please take a moment of your time to fill out the contact form or give us a call today. We at DryDryDry look forward to talking with you and assisting you and your every basement waterproofing need.
Foundation Repair in Detroit, MI
He was here less than 5 minutes and found the issue that many other completely avoided/missed. Very impressed and the issue he found was so simple and the fix costs thousands less than other quotes we've had. 10/10 would recommend!
Brittany - Detroit, MI 48243
Basement Waterproofing in Bloomfield Hills, MI
As a builder, I am particular about the contractors I hire. Their professionalism, as well as service, is outstanding. Timelines are always met, pricing exceeds the competition, phone calls are returned, and they clean up after the work is done. I can't say enough how happy I am with DryDryDry.
John D - Bloomfield Hills, MI 48304