Water which enters your basement is not what you want, and there needs to be a way to get it out! The typical basement waterproofing issue all starts with a crack in your basement, being whether the walls or the footing of the walls. Often times these cracks or water intrusion points can be caused by other foundation issues that should be resolved at the same time. Our team at DryDryDry has experience helping homeowners across southeastern Michigan mitigate any water intrusion via interior waterproofing methods. Our team can also install full sump pump systems in your home to help mitigate water damage when the water intrusion is significant.
What Causes Interior Waterproofing Issues?
There are many various causes which are probable with interior waterproofing issues. There are many things which you can look for regarding why your basement leaks water. They are few and far between, and it is very important to note that every home and building is unique. So, every project is slightly, or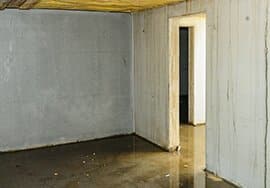 dramatically different than the last. Due to this, there are many solutions we can apply in order to solve any waterproofing issue that exists within the home regarding the basement and foundation.
Some signs to look for when checking your basement for possible water issues can be from many different sources. This could be water entering through a crack in the walls, or floors, among other things. You can tell if something is wet by looking at it and determining if there is significant moisture there, or in extreme cases, flooding. Another possibility is that your basement may have a damp, musty smell. Regardless of the case, it is safe to say that if you have any of these issues that you should contact us to inquire about finding an ideal solution for you and the well being of your home.
Our Interior Waterproofing Systems
There are many ways to repair a basement. There are as many right ways as there are wrong ways. Thankfully, we at DryDryDry only value the highest quality work, employing only the right way and correct techniques in order to get the job done correctly, and the first time. DryDryDry values the highest customer satisfaction and will do whatever within reason to obtain that level of satisfaction in your basement and all of its waterproofing needs. Take a look below at some of the interior waterproofing systems we use to protect your home.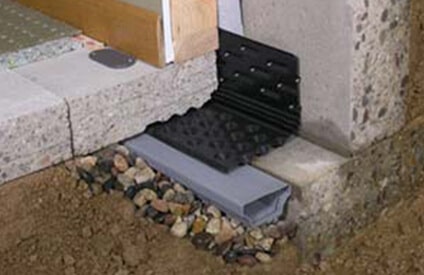 The Flat Track product is designed to use 66% less trenching than other types of similar systems which means less time and digging are required for installation. It features a rapid flow design that is specially engineered to outperform all other subfloor waterproofing systems.
Our cove joint waterproofing system is an interior waterproofing product custom-tailored to fit your basement. This product is designed to collect moisture that comes in at the basement cove which is where the wall and floor meet. It features a hollow channel at baseboard height that will collect and drain water.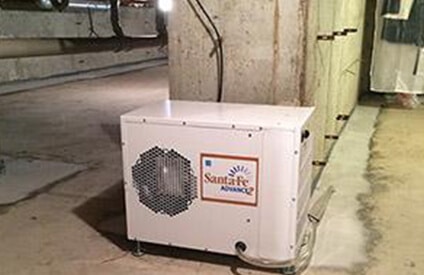 An important part of any waterproofing system is a dehumidifier. This product will help ensure the humidity levels are under control and will prevent the growth of mold or mildew. We have many different types, sizes, and capacities for every situation your home could have.
Our team at DryDryDry not only installs a variety of basement waterproofing products to keep your basement dry and protected, but we also can install insulation to help seal off the area. We can apply a spray foam insulation material to the floor joists and around the top of the footer of the basement. This is an expanding foam insulation material, that when applied properly, can seal off any unwanted openings in your basement as well as add some much-needed insulation.
Contact Us For Professional Exterior Basement Waterproofing Services Today
Our experts at DryDryDry can help you fix your wet basement problems. Our team has years of experience helping both home and business owners mitigate water intrusion in their basements. Call us today at 313-495-7923 or contact us online to request a free inspection and estimate of your basement.
Foundation Repair in Detroit, MI
He was here less than 5 minutes and found the issue that many other completely avoided/missed. Very impressed and the issue he found was so simple and the fix costs thousands less than other quotes we've had. 10/10 would recommend!
Brittany - Detroit, MI 48243
Basement Waterproofing in Bloomfield Hills, MI
As a builder, I am particular about the contractors I hire. Their professionalism, as well as service, is outstanding. Timelines are always met, pricing exceeds the competition, phone calls are returned, and they clean up after the work is done. I can't say enough how happy I am with DryDryDry.
John D - Bloomfield Hills, MI 48304