Professional Concrete Lifting Services In Southeastern Michigan
A sinking or cracking concrete slab can quickly cause problems at your home, business, or commercial location. Concrete surfaces are designed to be secure and solid so when that is compromised, it is very important that is properly repaired quickly. Not only does it look unprofessional, but it can also have an impact on the structural integrity of the slab and anything it is supporting.
In the past, when concrete slabs suffer sinking or settling, it was necessary to tear out the problem areas and replace it with new concrete, even if the slab was still in a good condition. Now there is a better method to perform the raising and leveling repairs that can be done without tearing out and re-pouring the slabs.
Our team at DryDryDry uses a state of the art expanding foam injection technique to raise and level the sinking or settled concrete slab. This structural foam is rigid and resistant to corrosion providing a base for any sunken slab that will last forever.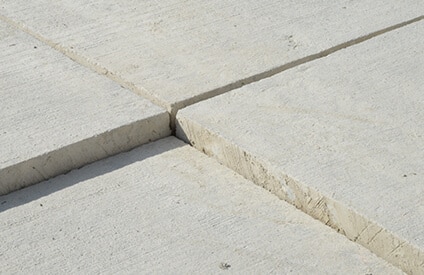 What Surfaces Can We Lift
Our experts at DryDryDry have experience lifting a wide variety of concrete slabs for both home and business owners in Michigan. From large commercial spaces and applications to small residential patios and walkways our team can lift it all. Our patented polyurethane foam jacking system is designed to hold up to the pressure of large concrete slabs and rigorous weather conditions.
Our commercial concrete leveling services are available for the following types of concrete slabs:
Warehouses
Industrial Buildings
Municipal Buildings
Roadways
Parking Lots
Sidewalks
Our residential concrete leveling service are available for the following areas of your home:
Sidewalks
Driveways
Garage floors
Basement floors
Patios and porches
Pool decks
Garden paths
Foam lifting is a technique used to lift and level concrete slabs that have settled or become uneven over time. It is similar to the mud jacking technique for concrete lifting, but it is different in that it uses a highly corrosion resistant polyurethane expanding foam to lift your concrete. This means that your concrete will stay level for longer because the supporting material cannot be destroyed.
The advantage to using foam lifting over other lifting methods is that it can be performed on large slabs such as parking lots and road surfaces. The repairs can be done with minimal impact to the existing slab and with very little downtime for your business.
Foundation Repair in Detroit, MI
He was here less than 5 minutes and found the issue that many other completely avoided/missed. Very impressed and the issue he found was so simple and the fix costs thousands less than other quotes we've had. 10/10 would recommend!
Brittany - Detroit, MI 48243
Basement Waterproofing in Bloomfield Hills, MI
As a builder, I am particular about the contractors I hire. Their professionalism, as well as service, is outstanding. Timelines are always met, pricing exceeds the competition, phone calls are returned, and they clean up after the work is done. I can't say enough how happy I am with DryDryDry.
John D - Bloomfield Hills, MI 48304