Professional Crawl Space Mold Remediation Services
Having mold in your home whether it is in your basement or crawl space can be a serious risk to your health. It affects the quality of air inside of your home as well as the health of anyone who is living there. While mold is very common, it is important to have it inspected immediately if you notice any visible signs of mold growth.
Musty crawl spaces and basements are not generally visited much by homeowners and it can be easy to overlook the existence of mold or mildew growth. However, it is important that if you think you have any mold growth you should have it removed immediately.
Signs You May Have A Mold Growth Issue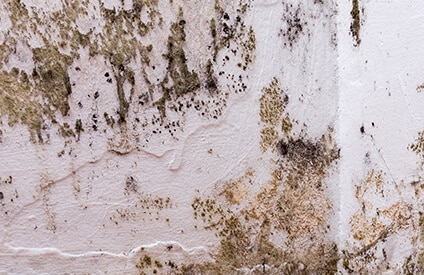 Mold spores are microscopic and often even if you have mold growth you may not be able to see visible signs. Because they can become airborne, mold spores tend to have several side effects that are similar to other allergens. If you notice any of the signs below in any member of your household or business then you should have your crawlspace or basement inspected immediately for mold growth.
Frequent Coughing
Asthma attacks
Skin irritation or rashes
Severe headaches
Extreme fatigue
Cold or flu like symptoms
Because of these potential health risks it is important that you have any visible signs of mold or musty smells investigated by a professional. Our team can perform a thorough mold testing to determine the levels of mold spores in your home. Once we have completed the test we can determine the location and cause of the mold growth and can recommend a clean up, removal, and remediation solution.
Mold is a living organism that requires three things to survive: oxygen, high humidity, and an Organic Material. Most basements and crawl spaces are an ideal place for mold growth due to these factors. Improperly regulated humidity levels are one of the leading causes of mold growth. This coupled with the oxygen in the air and the organic building materials such as wooden floor joists provide all of the necessary food for mold growth to occur.
Often times mold growth occurs at such a microscopic level that you won't notice it before its too late. The best ways to combat this are to regularly go into your basement or crawl space to check for any visible signs or moldy odors. Often when you can see visible mold growth then it means that there is a much larger mold growth problem than just the visible areas. In either case of you seeing mold or smelling moldy odors you should contact our team at DryDryDry to inspect and potentially remove any mold growth.
How To Prevent Mold Growth
Once any mold has been removed from your crawl space or basement then you should actively prevent any mold growth from occurring again. Our team uses two methods to help with crawl space and basement mold prevention. For crawl spaces, we can install both a crawl space encapsulation system and a dehumidifier. These systems will help regulate the moisture and humidity levels in your crawl space removing one of the necessary conditions mold needs to grow. For basements, we can install a dehumidification system to completely control the moisture levels in your basement and home. This will also remove one of the needed components for mold growth. With either of these systems installed you can rest easy knowing that your home is healthy and safe from mold growth.
Trust Our Experts To Remove and Remediate Mold In Your Home
Our experts are here to help you resolve any crawl space issue you may be having. If you notice that there is a moldy odor or visible mold growth in your crawl space or basement don't hesitate to call us at 313-495-7923 or contact us online to schedule a free estimate and inspection.
Foundation Repair in Detroit, MI
He was here less than 5 minutes and found the issue that many other completely avoided/missed. Very impressed and the issue he found was so simple and the fix costs thousands less than other quotes we've had. 10/10 would recommend!
Brittany - Detroit, MI 48243
Basement Waterproofing in Bloomfield Hills, MI
As a builder, I am particular about the contractors I hire. Their professionalism, as well as service, is outstanding. Timelines are always met, pricing exceeds the competition, phone calls are returned, and they clean up after the work is done. I can't say enough how happy I am with DryDryDry.
John D - Bloomfield Hills, MI 48304