Professional Exterior Waterproofing Services
Waterproofing of the exterior of the home generally consists of one of two things. First is a French drain, which resides at the base of buildings foundation, responsible for the collection of water before it enters the basement. The second being a waterproof membrane, which is best described as a large thick sheet made of either rubber or plastic. This is placed on the outside of the foundation wall directly. It is designed to allow water to flow past it, but not through it, and down and away from the foundation. Waterproof membranes are typically paired with a system to drain and channel the water away from the home.
Our team will always recommend that you look at having an interior waterproofing system installed before moving on to exterior waterproofing systems. Having an interior system installed can mean no excavation of your yard and will keep your home looking nicer for longer. If we have determined that an exterior waterproofing solution is the best way to combat your water intrusion issue then we will recommend one of the methods below.
Signs of Exterior Waterproofing Issues
There are times when it can be obvious from the outside of your home that you are in need of a waterproofing system. If you notice any of the below signs but do not have water inside, then it is an ideal time to start looking into exterior waterproofing solutions.
Water pooling next to the foundation when it rains or snow is melting

Water coming into the basement through windows or over the top of the foundation

Low areas in the yard have pools of water when it rains

Water flowing toward the foundation instead of away from the home
Our Exterior Waterproofing Solutions
We provide a number of options for exterior basement waterproofing systems. These systems are designed to stop water from entering your basement from outside of your home. Learn more about how each system functions below.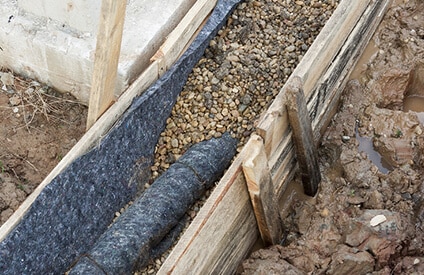 This is a type of drainage system, composing of a pipe, perforated, and then filled with gravel, or sand, among other things. This is used to accomplish an even dispersal of water from your basement. These systems can be paired with other waterproofing systems to ensure that all water is removed from the exterior of your home.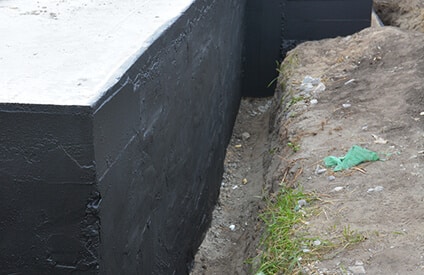 A waterproofing membrane consists of a thick plastic or rubber sheet that is placed directly against the outside of the foundation wall. The sheets texture allows water to flow past it and away from the foundation. These systems are generally coupled with a drain system to channel water away from the home.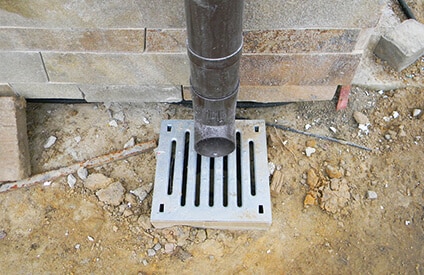 These drains are installed along the perimeter of the foundation, at the base of the footing. They are designed to work either on their own as a type of french drain or to collect the water from a waterproofing membrane. These drains will prevent water from pooling at the footer and direct it away from the home.
Contact Us For Professional Exterior Basement Waterproofing Services Today
Our experts at DryDryDry can help you fix your wet basement problems. Our team has years of experience helping both home and business owners mitigate water intrusion in their basements. Call us today at 313-495-7923 or contact us online to request a free inspection and estimate of your basement.
Foundation Repair in Detroit, MI
He was here less than 5 minutes and found the issue that many other completely avoided/missed. Very impressed and the issue he found was so simple and the fix costs thousands less than other quotes we've had. 10/10 would recommend!
Brittany - Detroit, MI 48243
Basement Waterproofing in Bloomfield Hills, MI
As a builder, I am particular about the contractors I hire. Their professionalism, as well as service, is outstanding. Timelines are always met, pricing exceeds the competition, phone calls are returned, and they clean up after the work is done. I can't say enough how happy I am with DryDryDry.
John D - Bloomfield Hills, MI 48304