Professional Crawl Space Encapsulation Services
If you have a crawl space underneath your home or business, then you know that it can be problematic when it comes to moisture and humidity. Your crawl space also probably houses some important systems for your building including your HVAC ducts. Keeping this area protected from the elements can ensure that your home's foundation and important components last longer.
Our team at DryDryDry specializes in providing complete protection for your crawl space by completely sealing it off from the elements. This process is known as crawl space encapsulation and is designed to both seal your crawl space and control humidity levels. These systems are a combination of products designed specifically for crawlspaces and have proved themselves effective for years. The main pieces of the system are the vapor barrier which covers the walls and floors of the crawl space, airtight door and vent covers, water control and diversion systems, sump pumps, and dehumidifiers. With these products installed, you can be sure your crawl space will no longer have issues with excess moisture and humidity.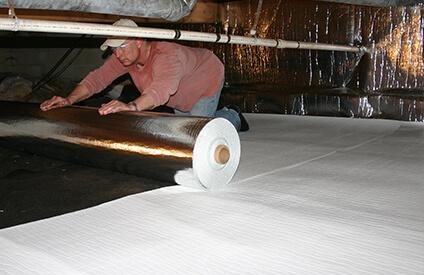 Vapor barriers are one of the most important parts of the crawl space encapsulation process because they prevent the excess water and moisture from entering your crawl space. Our vapor barriers are constructed of a high quality reinforced polyethylene resin that is specifically designed for crawlspaces to be completely waterproof and mold resistant. Our technicians lay this material along the entire crawl space floor and up the walls to the floor joists to completely seal the crawl space.
Most vapor barriers come in different thicknesses depending on the needs of the crawl space. Thicker options are available for the crawl space floor if you intend to use it as a storage option. Thinner vapor barriers are typically used on the wall because they don't have to support any extra weight, while they are thinner than the barrier used on the floor they are still completely waterproof and mold resistant.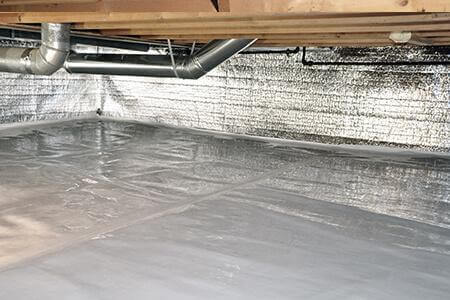 Crawl Space Dehumidifiers
It is important that once water is being kept out of the area that any excess humidity in the area is controlled properly. Our team uses a specially designed crawl space dehumidifier to help regulate the humidity levels and prevent the moisture from causing damage to your floor joists. By installing a crawl space dehumidifier we can ensure the area is kept at a proper humidity level.
Trust Our Experts To Protect Your Crawl Space From Water Damage
Our experts are here to help you resolve any crawl space issue you may be having. If you are in need of our crawl space encapsulation services don't hesitate to call us at 313-495-7923 or contact us online to schedule a free estimate and inspection.
Foundation Repair in Detroit, MI
He was here less than 5 minutes and found the issue that many other completely avoided/missed. Very impressed and the issue he found was so simple and the fix costs thousands less than other quotes we've had. 10/10 would recommend!
Brittany - Detroit, MI 48243
Basement Waterproofing in Bloomfield Hills, MI
As a builder, I am particular about the contractors I hire. Their professionalism, as well as service, is outstanding. Timelines are always met, pricing exceeds the competition, phone calls are returned, and they clean up after the work is done. I can't say enough how happy I am with DryDryDry.
John D - Bloomfield Hills, MI 48304