Professional Crawl Space Repair Services In Southeastern Michigan
Our professionals at DryDryDry know that if you have a crawl space, then it is likely at some point you will experience some of the following issues. Crawl spaces are usually open to the elements which mean they will regularly flood and the humidity issues they experience can cause permanent damage to your home. Our team can provide you with expert inspections for any type of crawl space issue, whether they are related to flooding or waterproofing issues, humidity issues, or even sagging floors above the crawl space. It is important for you to have an inspection performed by a professional if you think you are experiencing any of these issues. Our experts can perform a quick evaluation and provide you with a permanent solution to your issue.
Whether the repair needed is the installation of crawl space jacks to repair sagging floors or to install a complete encapsulation system to keep out water and unwanted moisture our team can help you find the proper solution to your issue. We can also perform mold tests and remediation services to combat the high humidity levels, musty odors, and mold growth that can occur in a home with a crawl space.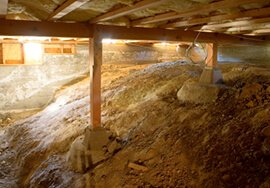 Common Crawl Space Issues
Below is a list of some of the most common crawl space issues we encounter in homes with an open crawl space. These issues can pose both as health risks and as safety risks. Take a look below to see if you can identify any of these problems in your home. If you do, don't hesitate to contact our experts for a free evaluation and estimate.
Moisture: Excess moisture in your crawl space can lead to mold growth. This mold growth can be a serious allergen to you and your family members and should be resolved quickly. You can identify mold growth in your home first by smelling for musty or moldy odors, if there are visible signs of mold in your home then you may have a larger problem that needs to be addressed immediately.

Sagging Floors: Sagging crawl space supports can lead to the floor in your house sagging in one direction. This is a sign that the structural integrity of your foundation is compromised and your home may be on unstable footing. To test this you can set a pin or a marble on your floor and see if it rolls away with no assistance.

Flooding: If you do regularly check your crawl space and notice that there is often water underneath your home after heavy rains or flooding then you may need crawl space encapsulation. Crawl space encapsulation will completely seal your crawl space from the outside elements. This can help combat issues with moisture and mold growth and will keep your crawl space supports from rotting.
Our Crawl Space Repair Services
Our team at DryDryDry offers a variety of comprehensive crawl space repair options to help you combat any issue that you may be experiencing. We pride ourselves in using top of the line products for all of our services to help keep your home healthy and safe permanently. Take a look below at some of the services we offer to help you repair your crawl space.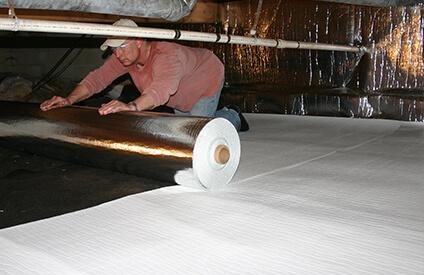 Crawl Space Encapsulation
Crawl space encapsulation is the best way to seal your space off from the outside air. This will help prevent water from entering the area as well as control the humidity that can cause damage to the floor joists or cause mold and mildew growth.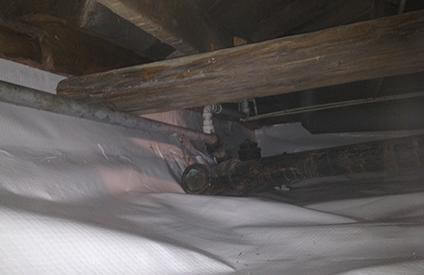 The floors above your crawl space can be subjected to many levels of humidity, this can cause the joists to soften over time resulting in sagging floors. Using patented stabilizing jacks, we can lift sagging floor joists and prevent future issues.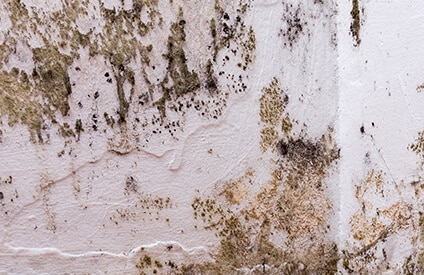 When you have an area in your home that is subjected to high levels of humidity, there is a good chance that there will be mold growth that occurs. Our team can implement a mold remediation process to remove and prevent mold growth.
Trust Our Experts To Solve Your Crawl Space Issues
Our experts are here to help you resolve any crawl space issue you may be having. If you notice any of the signs above or have any questions regarding the health of your home and your crawl space, don't hesitate to call us at 313-495-7923 or contact us online to schedule a free estimate and inspection.
Foundation Repair in Detroit, MI
He was here less than 5 minutes and found the issue that many other completely avoided/missed. Very impressed and the issue he found was so simple and the fix costs thousands less than other quotes we've had. 10/10 would recommend!
Brittany - Detroit, MI 48243
Basement Waterproofing in Bloomfield Hills, MI
As a builder, I am particular about the contractors I hire. Their professionalism, as well as service, is outstanding. Timelines are always met, pricing exceeds the competition, phone calls are returned, and they clean up after the work is done. I can't say enough how happy I am with DryDryDry.
John D - Bloomfield Hills, MI 48304