New Construction Pier Installation Services
The best way to prevent a problem from occurring is by solving it long before it can begin. That is where New Construction Piering comes into play. Many homes and business are built on unstable or poorly compacted soil. This type of ground will not support the foundation sufficiently in the long run, thus plaguing future building owners with the expense of foundation settlement issues later on. DryDryDry can install helical piers while the foundation is being constructed, avoiding future expensive repairs, such as settlement repair, or bowed wall repair.
How New Construction Piers Can Help Keep Your Home Or Business From Sinking
Our new construction piering services are designed to help you have peace of mind when starting a new construction project. Our team installs helical piers before the foundation for the new building is poured, allowing surefooted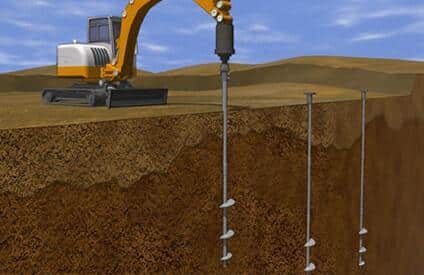 confidence that the structure is in stable soil. The amount and pattern the piers are installed is determined by what is necessary to properly support the load of the building and based on what the soil alone can handle. Every building has different requirements, so proper measurements and thorough inspections are necessary before, and during the installation of the helical piers.
DryDryDry provides solutions for buildings in all kinds of different unique locations, which may be unstable for a building to be supported on. New Construction Piers will allow the building to be effectively supported there.
If you are in need new construction piering, or wish for an evaluation to determine it's need of piering, please take a moment of your time to fill out our contact form or give us a call at 313-495-7923 today. We look forward to helping you with all of your new construction piering needs.
Foundation Repair in Detroit, MI
He was here less than 5 minutes and found the issue that many other completely avoided/missed. Very impressed and the issue he found was so simple and the fix costs thousands less than other quotes we've had. 10/10 would recommend!
Brittany - Detroit, MI 48243
Basement Waterproofing in Bloomfield Hills, MI
As a builder, I am particular about the contractors I hire. Their professionalism, as well as service, is outstanding. Timelines are always met, pricing exceeds the competition, phone calls are returned, and they clean up after the work is done. I can't say enough how happy I am with DryDryDry.
John D - Bloomfield Hills, MI 48304