Professional Sagging Floor Repair
Moisture problems in your crawl space can cause a number of problems for your home and your foundation. One of these problems is mold growth or mildew and should be addressed immediately by our experts. The other issue that is caused by moisture in your crawl space is over time the moisture can cause your floor joists to rot and deteriorate which causes sagging floors above the crawl space. You may notice a difference in floor heights on the first floor of your building or even an obvious slope that has formed in certain areas. It is important to have an expert investigate any uneven flooring you may have as it may be a crawl space support issue.
Having sagging floors and crawl space supports is a sign that your building is experiencing significant stress on the foundation and lacks the proper support to keep your home structurally sound. While some people may think the best way to repair sagging floors is to replace the floor joists, our team knows that there is a better way. The first step to eliminate sagging floors is to control the humidity issue with the installation of a crawl space encapsulation system as well as a dehumidifier. It may take a few days or weeks for the encapsulation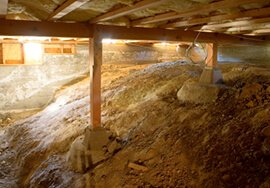 system to fully control the humidity issues once installed. Once the humidity problem is solved we can install a series of crawl space support jacks that support the sagging beams and move them back to their proper level.
How Crawl Space Supports Fix Sagging Floors
Crawl space supports are an ideal repair tool because they do not require the removal and replacement of floor joists, which can be costly and time-consuming and can be installed quickly to provide immediate support. The supports are a jack type product that is installed on a new footer in the crawl space. Once our team has mitigated any moisture issues through crawl space encapsulation we can decide how many supports will be needed to repair your sagging floor. The supports are all raised in a specific order to ensure that the floor is raised evenly and to the correct height to properly level the floors. Once they are installed you will notice that your floors are no longer sagging or sinking.
Trust Our Experts To Repair Your Sagging Floor
Our experts are here to help you resolve any crawl space issue you may be having. If you notice that there are sagging floors in your crawl space don't hesitate to call us at 313-495-7923 or contact us online to schedule a free estimate and inspection.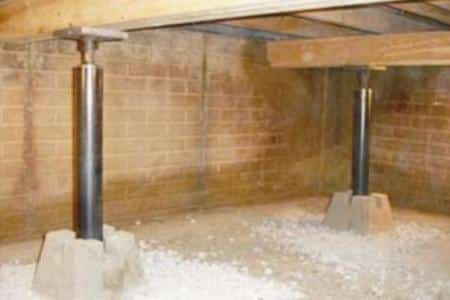 Foundation Repair in Detroit, MI
He was here less than 5 minutes and found the issue that many other completely avoided/missed. Very impressed and the issue he found was so simple and the fix costs thousands less than other quotes we've had. 10/10 would recommend!
Brittany - Detroit, MI 48243
Basement Waterproofing in Bloomfield Hills, MI
As a builder, I am particular about the contractors I hire. Their professionalism, as well as service, is outstanding. Timelines are always met, pricing exceeds the competition, phone calls are returned, and they clean up after the work is done. I can't say enough how happy I am with DryDryDry.
John D - Bloomfield Hills, MI 48304